Travel Information
(Most information are adapted from www.tourismthailand.org, the official website for Tourism in Thailand )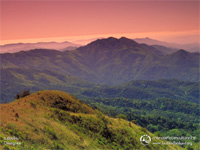 Chiang Mai

Experiencing the merging of the past into the present in Chiang Mai where locals are proud of the city's 700-year history. Its rich traditional heritage and unique culture is a perfect foundation for the development of the city. Chiang Mai is one of the few places in Thailand where it is possible to find in the heart of the city centuries-old chedis and temples next to modern convenience stores and boutique hotels. The original city layout still exists as a neat square surrounded by a moat with vestiges of the fortified wall and its four main gates offering prime access to the old town.

For years, tourists have mistaken Chiang Mai as the northern junction and the base from which they can explore other provinces. The phrase "a day in Chiang Mai is enough to see things around" was common. Today, tourists are surprised by the fact that there is always something new to discover Chiang Mai. Intriguing diversity among ethnic tribes coupled with breathtaking scenery makes Chiang Mai one of Asia's most attractive tourist destinations. Two weeks in Chiang Mai may not be long enough for serious travelers.

The old city of Chiang Mai with its fascinating indigenous cultural identity such as diverse dialects, cuisine, architecture, traditional values, festivals, handicrafts and classical dances is a prime location in its own right. In addition, the presence of hill tribes and their wealth of unique cultures enhance Chiang Mai's distinctive diversity.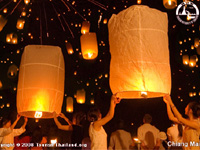 Chiang Mai is also blessed with pristine natural resources of mountains (dois), waterfalls, and other nature-based tourist attractions. At the same time, Chiang Mai residents are warm, gracious and congenial providing authentic hospitality making visits memorable and meaningful. Moreover, visitors from all walks of life can collect handicrafts of silk, silver and wood produced locally as timeless souvenirs. Chiang Mai is a place where both backpackers and luxury tourists can enjoy themselves to the fullest.

Chiang Mai, with an altitude of approximately 310 meters above sea level, is situated approximately 700 kilometers from Bangkok on the Mae Ping River basin. Surrounded by high mountain ranges, the city covers an area of approximately 20,107 square kilometers and is the country's second largest province. Chiang Mai borders Myanmar on the north, Lamphun and Tak Provinces on the south, Chiang Rai, Lampang and Lamphun Provinces on the east and Mae Hong Son Province on the west. The terrain is mainly comprised of jungles and mountains, which are home to the hill tribes. In addition, wildlife and exotic flora may be found in the national parks.

Most of Chiang Mai's mountains are oriented from north to south. Together they create a multitude of streams and tributaries including Mae Chaem, Mae Ngat and Mae Klang. One of Chiang Mai's distinctive features is Doi Inthanon, Thailands highest peak, which is 2,575 meters above sea level. In addition, the province boasts flat, fertile valleys, which spread along the banks of the largest and most important river in Chiang Mai Mae Nam Ping (Ping River) which originates from the Chiang Dao mountain range.



Travelling from Bangkok to Chiang Mai
There are several methods to travel from Bangkok to Chiang Mai. Yet, the most preferrable, and least time consuming, method would be by air. The flight usually takes only one and a half hour. There are several airlines (many are low-cost) which operate the flight between Suvarnabhumi International Airport (BKK) and Chiang Mai International Airport (CNX) e.g. Thai Airways, Air Asia, Nok Air and One-Two-Go Airlines.

Nevertheless, Train could be another preferrable choice of travelling, if you have a lot of spare times. You will be able to experience the beauty of Thai cities, people and environment from both sides of the tracks. Train schedule can be checked here.

Travelling from Chiang Mai International Airport to The Empress Hotel (the conference venue)
The Empress Hotel offers an airport pick-up service for only 90 Baht per person for ECTI-CON 2010 participants. However, you can also call for a taxi service from taxi booths at either the airport or train station. A taxi to the conference venue usually does not cost more than 300 Baht.



(Click HERE for more information)

---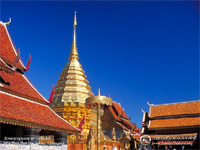 Attraction: Wat Phra That Doi Suthep

Locals would say, You haven't really gone to Chiang Mai unless youve been to Wat Phratat Doi Suthep. Truly, the place is the most important and famous Chiang Mai landmark. Built in 1383, this mountaintop temple has a chedi (pagoda) that houses holy Buddha relics. The gold-plated chedi lies in the middle of a square marble-tiled courtyard. The four corners of the chedi are adorned with parasols which represent royal regalia. The temples courtyard is lined by a cloister, which contains images and murals depicting Buddhas life. There are also two viharns situated in the middle of the east and west sides of the cloister.

This temple is 15 kilometers from town and is 3,520 feet above sea level. It is the perfect place to get a birds eye view of the city. The temple can be reached via a steep Naga staircase comprised of 290 steps or railcars. The temple is open daily from 6 am. to 7 pm.

To get there, drive along Huay Kaew Road up the mountain. Alternatively, there are song thaew services available at the foot of the mountain. It costs 30 baht/head to go up to Doi Suthep and approximately 50 baht/head to go further to Doi Pui and Phu Phing Palace. Note that these are one-way fares.

(Click HERE for more information)

---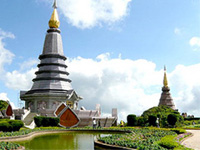 Attraction: Doi Inthanon National Park

This national park which covers an area of 1,005 square kilometers is located on Doi Inthanon, Thailand's highest mountain which is 2,565 meters above sea level. Located between Mae Chaem and Chom Thong, the park is comprised of the largest tract of upper mountain forest which ranges across Nepal, Bhutan, Myanmar, and ends in Northern Thailand. The mountain ranges gave birth to the main tributaries of the Ping river and formed the beautiful waterfalls, namely Siriphum, Wachirathan, Mae Pan, Mae Klang and Mae Ya. The moist and dense evergreen forest is abundant with lichens and wild orchids. The park is also a paradise for bird lovers.

Attractions in Doi Inthanon National Park include Doi Inthanon Peak, Napha Methanidon and Naphaphon Phumisiri twin pagoda. Mae Ya waterfall, Mae Klang waterfall, Wachirathan waterfall, Mae Pan waterfall, Siriphum waterfall, Huai Sai Lueng waterfall, Bori Chinda Cave, natural study trek, Ang Ka Luang nature trail and Doi Inthanon Royal Project.

(Click HERE for more information)

---
Attraction: Chiang Mai Walking Street

The Wualai has been so far known for good quality of silver and lacquer wares. On Saturday evenings, the open-air market will be set up for the famous handicraft area. Do not miss a chance to shop for authentic northern silver, lacquer wares and unique handicrafts. Tourists are enjoy the local foods and Thai traditional performances. The market start from 4 p.m. to 10 p.m.

Starts from Tha Phae Gate through Ratchadamnoen Road every Sunday from 7.00 p.m. until midnight. There are variety kinds of local products on a reasonable price along both side of the street where Thai and foreign tourists are enjoy walking & shopping without exhaustion.

Ton Kong Market is convened on Saturday mornings in the Sansai-Tonkok community of Tambon Fa Ham, Mueang, Chiang Mai. Visitors could view and purchase local goods, local delicacies, organic vegetables, flowers, and decorative plants. There are demonstrations of quail farming techniques and cultural presentations by the community's local youth group, vegetable cultivation by the agricultural group, and the ancient drum presentation by the folk handicrafts group. Visitors could also take a boat trip to observe lifestyles of communities along the Ping River.

Handicrafts Walking-street in San Kampaeng is a great place to view and purchase handicraft goods, foods, souvenirs, and enjoy the ancient San Kampaeng music show. This walking-street takes place every Saturday from 15.00 to 22.00 hrs.

(Click HERE for more information)

---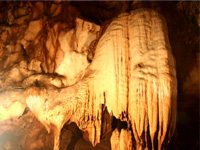 Attraction: Chiang Dao Cave

Chiang Dao Cave is a charming cave located in Amphoe Chiang Dao. It is situated 72 kilometres from Chiang Mai town, turn left at the entrance route and proceed for 5 kilometres on an asphalt road. Convenient parking is available. Climb a staircase with a zinc roof to reach the cave. The lovely cave greets visitors with various kinds of fish swimming in a stream in front of the cave.

Touring in and around Chiang Dao Cave with a local guide is possible by contacting local guides in front of the cave. A service fee is charged.

(Click HERE for more information)

---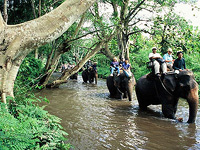 Attraction: Maesa Elephant Camps
(Information are adapted from Maesa Elephant Camp)

In the lush tropical jungle of Chiang Mai's Maesa Valley, a big family of elephants lives side by side with their mahout caretakers. Maesa Elephant Camp is home to one of the largest assembly of elephants in the north of Thailand.

Maesa Elephant Camp's philosophy is to create a natural and healthy environment for the elephants while working to conserve and breed them,due to the dwindling number of Asian elephants left in the wild.

Maesa Elephant Camp, as well as several nearby elephant camps in Chiang Mai, offer a number of exotic activities such as mahout training courses, elephant shows and elephant trekking.

(Click HERE for more information)

---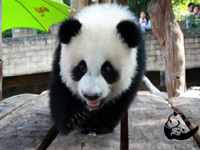 Attraction: Chiang Mai Zoo
(Information are adapted from Chiang Mai Zoo)

Situated next to Huai Kaew Arboretum at the foot of the mountain where Phra That Doi Suthep is located, the zoo houses a pair of cuddly Pandas on loan from China. Inside the zoo, there are over 200 types of Asian and African mammals and birds for visitors to observe. Open daily from 8 a.m. to 7 p.m., the admission fee for an adult is 100 baht and a child is 20 baht. There are excellent facilities for tourists with restaurants and a camping site. Advance booking is required for large groups.

The starting of Chiang Mai Zoo was quite an interesting story. In 1952, Mr. Harold Mason Young, an American missionary started a private animal collection at his home in Chiang Mai and open it to public as the very first private zoo in the country. Mr. Young's growing animal collection began to be a nuisance to his neighbors, therefore he applied for a permission to use a piece of land on the foothill of Doi Suthep (now became part of Chiang Mai University) to keep his animals and reopened his zoological park to public on April 6, 1957. Mr. Young's zoo had been opened until he passed away. Later, City of Chiang Mai realized that Mr. Young's zoological park is important to the people of Chiang Mai and adopted it under the city's operation. In 1977, Chiang Mai Zoo has been moved under ZPO administration and became the third government zoological park on 210 acres of foothill land.

Chiang Mai Zoo's service includes a large aquarium, snow dome, adventure park, animal shows, seal show, monorail, tram, as well as a large variety of animals, reptiles, birds and insects.

(Click HERE for more information)

---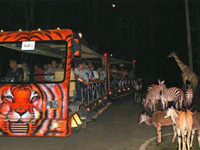 Attraction: Chiang Mai Night Safari
(Information are adapted from Chiang Mai Night Safari)

Chiang Mai Night Safari (CnS) is a goverment nature theme park which is built to promote Chiang Mai tourism regarding to the government's policy apart from arts, cultures, traditions, and the beauty of nature which are the main fascinating tourist attractions. The government also works for the promotion of Chiang Mai Airport in order to make it an international airport which will allow Chiang Mai to be the tourist center in Indo-China and Southeast Asia. Therefore, if you are looking for a place to visit, a place to hang out at night amidst the real natural environment where you can relax and learn ecosystem, wildlife and natural resources not only in terms of quantity but also quality, Chiang Mai Night Safari is the best answer for you.

Chiang Mai Night Safari is located at Doi Suthep-Pui National Park which covers Tambon Nhong Kway, Hang Dong District, and Tambon Mae Hia, Muang Chiang Mai District, Chiang Mai Province. It's about 324 acres consisted of Mixed Deciduous Forest and Dry Dipterocarp forest. Chiang Mai Night Safari is 12 km away from downtown Chiang Mai. By car, it takes only 15-20 minutes from the Chiang Mai Airport, the train station or the bus terminal to Chiang Mai Night Safari. Therefore, Chiang Mai Night Safari is the only nearest natural forest from downtown where the environment still perfectly stays in beauty and in peace of nature.

Being constructed to be a world class nature theme park consisted of many projects to be done, today, the first project including wildlife area, musical fountain and water screen, has already been completed. To accomplish the whole objectives, other projects will be gradually established.

Chiang Mai Night Safari is 2 times larger than Singapore Night Safari and it is considered to be the most beautiful night safari in the world.

(Click HERE for more information)

---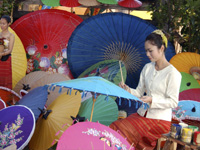 Attraction: San Kamphaeng and Bo Sang Handicraft


The village is located 13 kilometers the east of Chiang Mai town in a district that is famous for silk and a cotton weaving. The silk and cotton souvenirs produced in this village are high quality. Factories and souvenir shops selling woodcarving, silverware, earth ware, lacquer ware and cotton fabrics are located along the way from Chiang Mai to San Kamphaeng.

Located in San Kamphaeng is Bo Sang a village that produces handmade umbrellas. In addition to umbrellas, visitors will also be able to find various woodcarving and Thai silk products here.

(Click HERE for more information)

---